Napa Valley's fame for its stunning vineyards, top-tier wineries, and opulent offerings is widely acknowledged. In the midst of this realm of opulence and distinction, a single company has risen above the rest and garnered the notice of both the industry and its discerning clientele. Got Luxury Ride, a leading limousine service in Napa, has recently been honoured with the prestigious "Best Limousine Service in Napa 2023" award. This accolade serves as a testament to their steadfast dedication to providing unparalleled luxury transportation and exceptional customer service.
The Journey to Excellence
Got Luxury Ride's journey to becoming the best limousine service in Napa was a story of dedication, hard work, and a relentless pursuit of excellence. Founded several years ago by a group of passionate individuals who shared a common vision – to redefine luxury transportation in Napa Valley, the company set out to make a difference.
1. Fleet of Distinction: The backbone of any limousine service is its fleet, and Got Luxury Ride did not disappoint. Their exquisite selection of vehicles, ranging from classic limousines to modern SUVs, offers clients elegance and comfort. Each vehicle is meticulously maintained to ensure a seamless, first-class experience.
2. Professional Chauffeurs: The company takes pride in its team of professional chauffeurs. These dedicated professionals are more than just drivers; they are experts in providing exceptional customer service. Their punctuality, knowledge of the area, and courteous demeanor have left a lasting impression on clients.
3. Customer-Centric Approach: One of the cornerstones of Got Luxury Ride's success is its unwavering commitment to putting customers first. They understand that every client is unique and deserves a personalized experience. From wine tours and airport transfers to special occasions, the company ensures that each service is tailored to meet the client's specific needs.
The Road to Recognition
The Best Limousine Service in Napa 2023 award is not just a title; it's a symbol of Got Luxury Ride's commitment to excellence. To be considered for such an accolade in a place like Napa, where the competition is fierce, is an incredible achievement.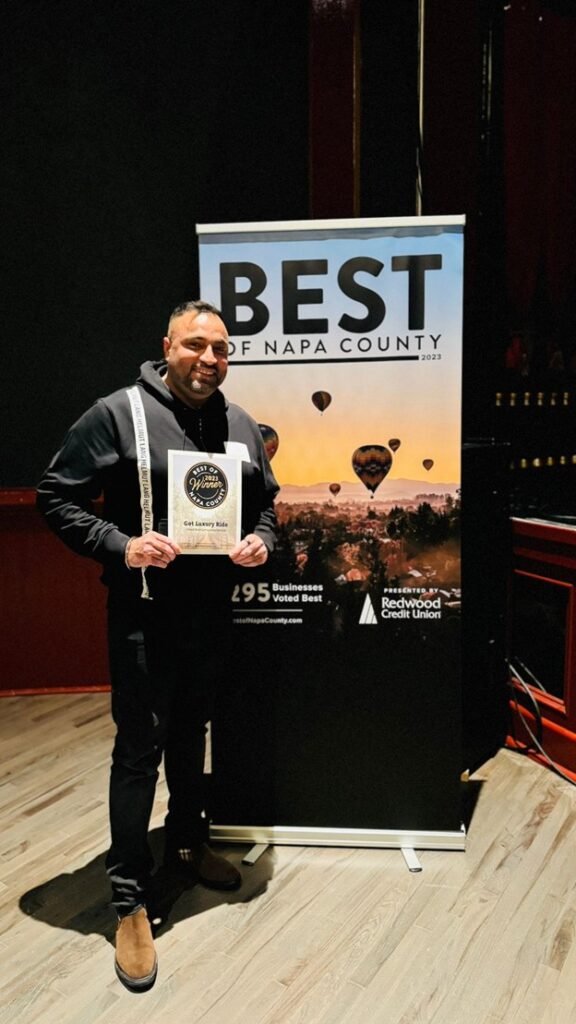 Here are some of the factors that contributed to Got Luxury Ride's win:
1. Outstanding Customer Reviews: The company consistently received rave reviews from customers who praised their exceptional service, attention to detail, and reliability. Happy clients who have enjoyed unforgettable experiences were eager to share their positive feedback, helping the company build an outstanding reputation.
2. Partnerships with Wineries: Got Luxury Ride's strong relationships with Napa Valley wineries have contributed to their success. These partnerships enable them to offer exclusive wine tour packages that provide clients unparalleled access to some of the most prestigious vineyards in the region.
3. Innovation and Adaptation: In a rapidly evolving industry, Got Luxury Ride has shown a remarkable ability to adapt to changing customer preferences and technological advancements. Their online booking system, state-of-the-art GPS tracking, and commitment to reducing their carbon footprint through eco-friendly practices have all played a role in their recognition.
Conclusion
Winning the award for "Best Limousine Service in Napa 2023" is a well-deserved honor for Got Luxury Ride. Their unwavering commitment to excellence, outstanding customer service, and strong industry partnerships have set them apart as leaders in the luxury transportation business in Napa Valley.
Whether you're planning a romantic wine tour, or a special event, or simply want to experience the epitome of luxury, Got Luxury Ride is your go-to choice. This award-winning company is not just a transportation service; it's an invitation to experience Napa Valley at its finest, where every journey is a memorable one.